FM1, FM10, FM100 and FM1000
Complete Systems, Elements, Parts and Pricing
Fuel Manager diesel fuel filter/water separator systems are used globally in a wide variety of diesel engine powered applications. As a modular system, optional Fuel Manager features can be selected to address specific operating requirements. This versatility allows the user to have the optimum fuel system filtration combined with exceptional economy.
The Fuel Manager series includes: FM1, FM10, FM100 and FM1000. Each of these Fuel Manager types serve specific engine power ratings for engines from 7.3 to 447 kW (10 to 600 BHP). All Fuel Manager elements are fuel/water separators with provisions for draining coalesced water. Systems are for use with diesel fuel and bio-blended diesel fuel, and are not for use with gasoline or other volatile fuels.
Each member of the fuel manager series is described herein with details regarding complete filtration systems, modular components, service parts and general installation and operational information. A glossary of terms is provided to assist in clarifying some of the nomenclature used in this publication.
For additional filtration information reference Fuel Manager Brochure 99889, Fuel Manager Cross Reference Guide 99642 and the Fuel Manager Fuel Filters/Water Separators Brochure 99966.
IMPORTANT! The elements and header assemblies listed herein are considered to be for "Service" use and are not compatible with Fuel Manager components used by our OEM customers.
Glossary of Terms
Air Vent Plug: Each FM system has a vent plug incorporated into the header assembly that is turned 1/2—3/4 turn to activate the air egress process and lightly tightened once complete.
Enhanced Retention System (ERS): A unique shape and indexing arrangement that provides superior element retention while augmenting Stanadyne's patented "Key Track" system.

Filter Location or Use: The ideal diesel fuel supply system should contain a pre-filter (primary) and a separate final (secondary) filtration system, as shown in the Figure below. Pre-filters are typically rated as 150, 30, 10 microns where final filters are either 5 or 2 microns. Some situations may require the use of only one filter. In these cases an optional, serviceable pre-filter screen is available.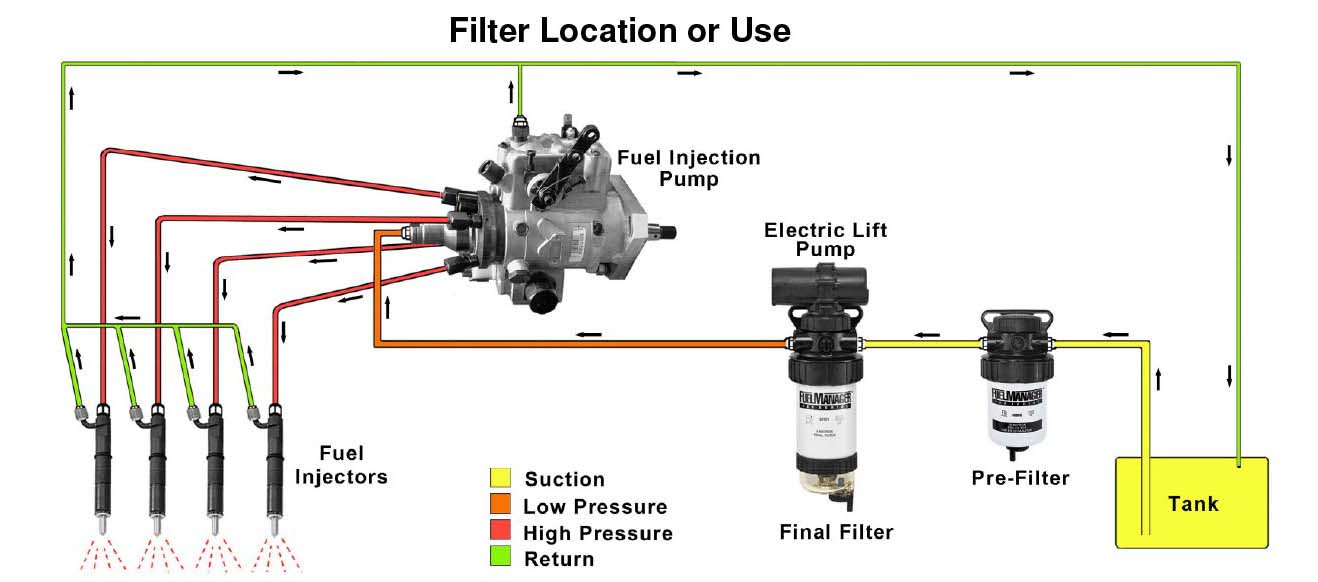 Flow Direction: Fuel flow through the header and element assembly are classified into two types: Normal and Reverse. A Normal flow header assembly has one inlet and one outlet port on each side, where internally the fuel flows thru the center tube then through the media. A Reverse flow header assembly has both inlet ports in the front and both outlet ports in the rear (toward the mounting flange). Internally the fuel flows thru the media first then out thru the center tube. Filter systems with optional electric lift/supply pumps must use a reverse flow type of system to ensure fuel is filtered prior to entering the pump.
Top Load: A type of FM100 systems where the element is serviced thru the top of the header assembly instead of from underneath, as shown in the illustration below.

Media: Most of the media used in our replacement elements is wet laid material, unless specified as High Efficiency (HE) in the Micron Rating column.